I've finally reached a point where I make 99% of our bath and body products by hand. In fact, my husband doesn't even bat an eyelash anymore when I pull homemade beard wax from the closet or toothpaste from the refrigerator. And while homemade lotion is always a favorite (this vitamin E lotion is seriously to die for), learning how to make lotion bars is one of my new favorite recipes!
These super hydrating lotion bars stay solid at room temperature but melt ever-so-slightly when rubbed on the skin, leaving behind a thin layer of moisture. Plus, they're relatively inexpensive to make (a little bit goes a long way), so you can whip up a huge batch and store them in the closet until you need them.
How To Make Lotion Bars
If you have beeswax, an oil (like coconut) and an essential oil then you have the 3 basic ingredients that form the basis for a number of beauty recipes. Solid perfume, lip balm, body balm, lotion bars and whipped body butter all come from the same basic ingredients!
For the oil portion, we like to use a combo of coconut oil and cocoa butter. Coconut oil is an excellent moisturizer that helps feed and nourish the skin. Cocoa butter is rich in vitamin E and fatty acids to deeply hydrate the skin, and it's often used to soothe dry skin, calm eczema, and reduce the appearance of scars and stretch marks.
Beeswax provides anti-inflammatory, antibacterial, and antiviral benefits, plus it binds the other ingredients together, so the bars stay solid at room temperature. The bars won't melt but they will still stay soft and apply easily to dry elbows, knees, feet, and hands.
Benefits of Lotion Bars
Lotion bars are nice to keep a few on hand for emergencies: in my purse, next to the bathroom sink, and on my bedside table for whenever dry skin keeps me up at night. Lotion bars aren't just relegated to the winter months when dry skin comes back with a vengeance.
A few lotion bar benefits and uses:
—after-sun soother
—a bug-bite balm
—shaving cream in a pinch
—helpful for dry patches on elbows, knees, feet, and hands
—super portable
—perfect for gift-giving
—handy for massages
Read on for three variations on making your own lotion bars!
1. Matcha Lotion Bar
Add matcha to your lotion bar for a dose of anti-aging skin renewal. Matcha—the finely powdered green tea leaves used to make matcha lattes—contains antioxidants to help combat free radicals and slow the signs of aging.
Matcha is an underrated skincare ingredient, but you can add it to your bath, a face mask, or a hair mask to soak up its mega antioxidants. You can also use green tea infused oil in this recipe if you'd like more free radical protection—and fun green color!
Matcha lotion bar ingredients
—1 cup cocoa butter
—1 cup coconut oil
—½ cup beeswax
—2 teaspoons matcha powder
—20 drops sweet orange essential oil
Makes approximately 4 large bars or 6-8 smaller bars.
2. Coffee-Infused Bronzing Lotion Bars
These lotion bars are made with stimulating, caffeine-infused coconut oil and softening cocoa butter to keep your tushie (and other cellulite-prone areas) nice and taut. And they help with chafing! If you have to wear tight clothes for exercise (like cycling), a quick rub down will reduce rubbing and friction.
And why not add a bit of natural bronzer for a hint of color? Combine all those magic ingredients, along with the heavenly smell of cocoa butter, for a super feel good DIY bronzing body butter bar.
And you know what pairs perfectly with this butter bar? A butt scrub to keep your derriere pimple free!
Bronzing lotion bar ingredients
—¼ cup cocoa butter
—¼ cup coffee-infused oil
—1 tablespoon beeswax
—½ teaspoon cocoa powder
—½ teaspoon cornstarch
—pinch of cinnamon
Makes roughly two bars. You can scale up the cocoa powder until you reach a bronzing color that you're happy with.
Because these bars have less beeswax, they will be softer and more spreadable when you apply. Feel free to add more beeswax if you live in a warm area that might have issues with melting.
You can also add 15-30 drops of a grapefruit essential oil for cellulite or try one of these cellulite oil blends.
3. Jasmine + Tea Tree Deodorant Lotion Bars
If slathering DIY deodorant onto your pits feels weird, you'll love that this bar works much like a deodorant stick – so much easier to apply!
The deodorizing scent of tea tree oil isn't exactly our cup of tea so we added a more powerful scent like jasmine to transform the aroma. A bit of baking soda and cornstarch work to absorb sweat and counteract odors.
And we swapped out the cocoa butter for shea butter, another rich, creamy butter that soothes the skin.
Deodorant lotion bar ingredients
—¼ cup shea butter
—¼ cup coconut oil
—2 tablespoons beeswax
—2 tablespoons baking soda
—2 tablespoons cornstarch
—15 drops tea tree essential oil
—15 drops jasmine essential oil (feel free to use a different essential oil if you have a favorite scent)
Makes roughly two bars
Making Lotion Bar Instructions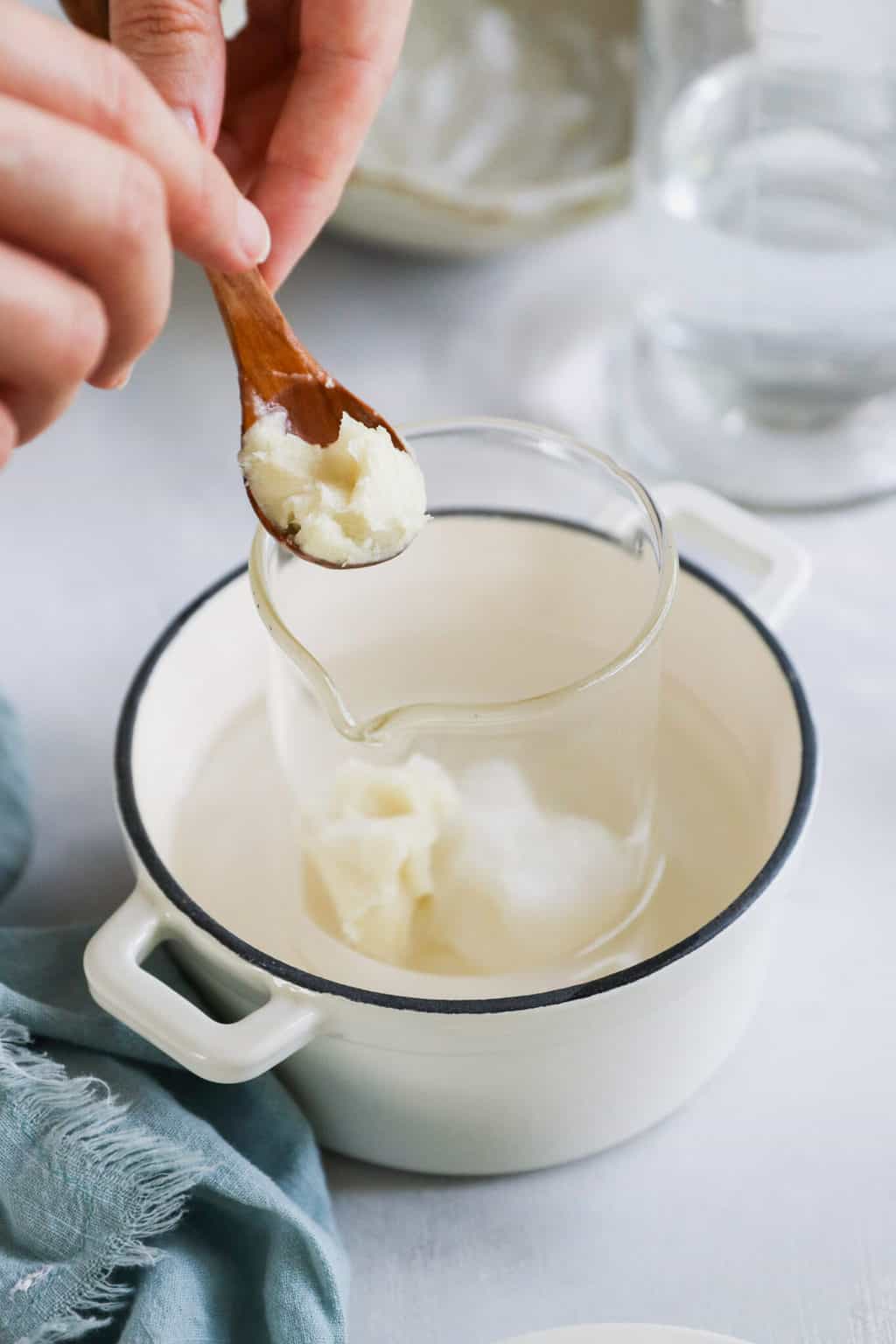 Step 1 | Melt ingredients in a double boiler
Combine beeswax, shea butter and coconut oil in a heat-safe bowl. You can use a mason jar, a measuring cup, or a glass bowl that will sit on top of your saucepan.
Add a couple of inches of water to small saucepan. Bring to a boil then reduce heat to low. Place the bowl on top (or set cup inside) to melt the wax and oils.
Step 2 | Add additional ingredients

When everything has melted and combined, remove the mixture from heat. Stir in any extras that you're adding—matcha, natural bronzers, magnesium, or baking soda and cornstarch.
Then add in your essential oils and stir again.
Step 3 | Harden in molds

Pour the melted concoction into a mold and let the bar harden for several hours. If you don't have soap/lotion bar molds you can use ice cube trays, loaf pans, silicone molds or other Tupperware.
Let the bars completely cool before removing them from the molds. And because these bars don't have water in the recipe they will keep for at least a year.
How To Use Lotion Bars
To use, simply rub the bars on your skin. As they warm up, they'll leave behind a thin layer of moisture.
They're great for dry skin, but also help soothe sunburned skin, itchy bug bits or irritating razor burn.
Lotion Bar FAQ
Do you have any vegan recommendations as an alternative for the beeswax?
You can use candelilla wax, it's vegan.
How would one measure 1 cup of cocoa butter?
If you have a bar of cocoa butter, then just cut it into small chunks and roughly measure. You can also use cocoa butter chips—they're much easier to measure and melt. The same goes for beeswax—small pellets will make your DIYs so much easier!
Will matcha leave a green residue on my skin?
No, thank goodness!
What lotion bar mold should I use?
Round, silicone molds work well because the size is small enough to fit in your hand, making the lotion easier to apply to the skin. Massage molds are nice too because it allows you to put use a little more pressure when applying. Perfect for a pre-bedtime massage with magnesium. You can reuse the mold to make scrubbing soap bars.
What the best lotion bar for dry skin?
All of these lotion bar recipes are great for dry skin. You could switch out the coconut oil for shea butter for an even creamier, more hydrating lotion bar.
How to Make Lotion Bars with Matcha
These matcha lotion bars are solid at room temperature but melt into a luxurious, moisturizing cream when rubbed onto the skin.
Yield: 4 bars
Author: Stephanie Pollard
Cost: $8
Instructions
Fill a medium pot with 2 inches of water and bring to a boil. Place a mason jar inside the pot to create a double boiler.

Add coconut oil, beeswax, and cocoa butter to the jar and stir occasionally until the mixture is fully melted.

Remove from the heat and add your essential oils and matcha powder. Stir. Pour the liquid into your molds and allow the lotion bars to cool fully before removing.
Notes
To use, simply rub the bars on your skin. As they warm up, they'll leave behind a thin layer of moisture.